Megat Firdaus, Haris (2012) Diagnosing Hepatitis Using Hybrid Fuzzy-CBR. Masters thesis, Universiti Utara Malaysia.
Text




MEGAT_FIRDAUS_HARIS.pdf


Restricted to Registered users only
Download (2MB)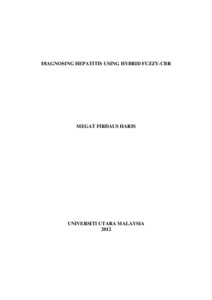 Preview
Text




MEGAT_FIRDAUS_HARIS.pdf


Download (488kB) | Preview
Abstract
The Malaysia populations are currently estimated to be 28.9 million with a number of medical specialists is 2,500 and 20,280 doctors. This ratio figures to cause patients need to wait longer in government hospitals and clinics before they can meet doctor or medical specialist. In order to resolve this problem, Ministry of Health has pledged to reduce waiting time of patient examination from 45 minutes to 30 minutes by provide allocation of large budget to the medical sector. This budget will be used either to buy new equipment, which can work with large capacity or upgrade the old equipment to work faster or build the new hospital to tend more patients or hire other doctors from overseas. Due to that reason and the coming which World Hepatitis Day on 28 July 2012, this study proposes a the use of hybrid intelligent, which combine Fuzzy Logic and Case-Based Reasoning (CBR) approach that could be integrated in the diagnosis system to classify patient condition by using fuzzy technique and similarity measurement based on current symptoms of a hepatitis patient. Focus of this study is to develop an automated decision support system that can be used by the doctors to accelerate diagnosis processing. As a result, a prototype called Intelligent Medical Decision Support System (IMDSS) using Fuzzy-CBR engine for diagnosis purposes has been developed, validated and evaluated in this study. The finding through validation and evaluation phase indicates that IMDSS is reliable in assisting doctors during the diagnosis process. In fact, the diagnosis of a patient has become easier than the manual process and easy to use.
Actions (login required)