Muhamad Shahbani, Abu Bakar (2012) Model Reka Bentuk Konseptual Operasian Storan Data Bagi Aplikasi Kepintaran Perniagaan. PhD. thesis, Universiti Utara Malaysia.
Text




MUHAMAD_SHAHBANI_ABU_BAKAR.pdf


Restricted to Registered users only
Download (6MB)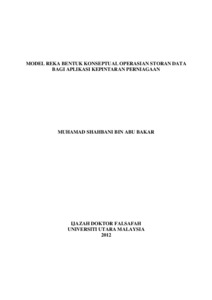 Preview
Text




MUHAMAD_SHAHBANI_ABU_BAKAR.pdf


Download (624kB) | Preview
Abstract
The development of business intelligence (BI) applications, involving of data sources, Data Warehouse (DW), Data Mart (DM) and Operational Data Store (ODS), imposes a major challenge to BI developers. This is mainly due to the lack of established models, guidelines and techniques in the development process as compared to system development in the discipline of software engineering. Furthermore, the present BI applications emphasize on the development of strategic information in contrast to operational and tactical. Therefore, the main aim of this study is to propose a conceptual design model for BI applications using ODS (CoDMODS). Through expert validation, the proposed conceptual design model that was developed by means of design science research approach, was found to satisfy nine quality model dimensions, which are, easy to understand, covers clear steps, is relevant and timeless, demonstrates flexibility, scalability, accuracy, completeness and consistency. Additionally, the two prototypes that were developed based on CoDMODS for water supply service (iUBIS) and telecommunication maintenance (iPMS) recorded a high usability average min value of 5.912 using Computer System Usability Questionnaire (CSUQ) instrument. The outcomes of this study, particularly the proposed model, contribute to the analysis and design method for the development of the operational and tactical information in BI applications. The model can be referred as guidelines by BI developers. Furthermore, the prototypes that were developed in the case studies can assist the organizations in using quality information for business operations.
Actions (login required)