Al-Nassar, Bilal Ali Yaseen (2012) Factors Affecting the Implementation of Electronic Medical Records Systems (EMRs) in Jordanian Hospitals. PhD. thesis, Universiti Utara Malaysia.
Text




BILAL_ALI_YASEEN_ALNASSAR.pdf


Restricted to Registered users only
Download (12MB)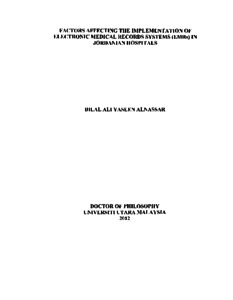 Preview
Text




BILAL_ALI_YASEEN_ALNASSAR.pdf


Download (1MB) | Preview
Abstract
An Electronic Medical Record System (EMRS) is an application that enables access and retrieval of a patient's medical history. Currently EMRS implementation does not encompass more than 50% of the hospitals in Jordan, and limited research has been done in Jordan to identify the main factors affecting the implementation of EMRS. The aim of this study is to explore the factors that affect the EMRS implementation in Jordanian hospitals. A conceptual model, adapted from Technology Acceptance Model (TAM), was built to relate Organizational Factors (OF) and Individual Characteristic Factors (ICF) to EMRS implementation in Jordanian hospitals. Self-administered questionnaires were used to collect the data from healthcare professionals in two major hospitals that have full implementation of EMRS. Findings indicated that OF has significant relationships with Perceived Ease of Use (PEOU) and Perceived Usefulness (PU), ICF has significant relationships with PEOU, User-Patient relationship has significant relationships with PU with exception of User Autonomy, PEOU has a significant effects with PU, PU has significant relationship with Attitude Toward Using (ATU) exception of PEOU, and ATU has a significant relationship with Behavioural Intention to Use. The finding of this study has led to the enhancement of the theoretical knowledge of TAM'S application in the health informatics domain. This study has extended the current model comprising PEOU and PU, by adding the OF and ICF. Consequently, the findings can assist decision makers in formulating EMRS implementation strategies in Jordan.
Actions (login required)