Lya Roswati, , (2011) Hubungan Indonesia dan Malaysia: Satu Kajian dari Perspektif Kepimpinan Indonesia. Masters thesis, Universiti Utara Malaysia.
PDF




LYA_ROSWATI.pdf


Restricted to Registered users only
Download (2MB) | Request a copy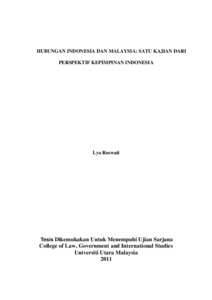 Preview
PDF




1.LYA_ROSWATI.pdf


Download (474kB) | Preview
Abstract
The diplomatic relationship between Malaysia and Indonesia has been going on since the Srivijaya Empire and the Sultanate of Malacca until today. This relationship marks by conflicts and cooperation influenced by the ruling era of leaders from both countries. As such, researcher thinks that this is an interesting issue to be studied. Therefore, study on this matter will be examined in the writer's thesis entitled "Relationship between Indonesia and Malaysia: A study from Indonesian leadership perspectives."
In this thesis, the author uses the approach of realism as the analytical tool to explain the observed object that has been selected. Discussion in this thesis finds that the leadership policy in Indonesia is so influential on the relationship between Indonesia and Malaysia. During the President Soekarno's era, Indonesia foreign affairs especially the bilateral relationship between Indonesia and Malaysia were at the less optimal level. However, when President Soeharto's ruling era, he gave sufficiently large support on the relationship between Indonesia and Malaysia.
After the fall of President Soeharto's administration, leadership in Indonesia has been replaced a few times. The changes in leadership allow reformation in every administrative division to be carried out. The change of Indonesia foreign politics policy on Malaysia is adjusted accordingly to the political situation. From the writer's observation, it is found that the Indonesian leadership is so influential on its relationship with Malaysia. Therefore, the writer suggests that Indonesia has to evaluate the capacity of Indonesian leadership in order in existing problem that affect the relationship of these countries should be solved through the increase of Indonesian leadership's capacity namely by prioritizing the preventive diplomacy to prevent the problems with Malaysia grows into a conflict. Apart from that, the bureaucracy and good political party management is needed to build future leaders' caracter without reducing the values of democracy are also as the basis of a good relationship between Indonesia and Malaysia.
Actions (login required)