Fairol, Halim (2012) Gelagat Pasca Pengundian di Bukit Gantang, Perak pada Pilihan Raya Umum 2008 Berdasarkan Model Pemasaran Hirschman. PhD. thesis, Universiti Utara Malaysia.
Text




FAIROL_HALIM.pdf


Restricted to Registered users only
Download (2MB) | Request a copy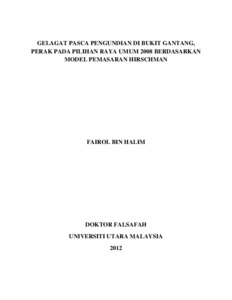 Preview
Text




FAIROL_HALIM.pdf


Download (807kB) | Preview
Abstract
The study of voting behaviour is increasingly important in Malaysia due to the massive changes occurrence in the Malaysian political landscape. For the first time in the Malaysia's political history, the ruling party Barisan Nasional was denied a two-third majority in Parliament and lost five strategic states.The stakeholders were interested to know whether the changes that had occurred could sustain, or just a temporary phenomenon which would change in the next general election. This study used the marketing approach to understand voting behaviour in Malaysia. It involves the application of Hirschman model as a framework of analysis and voters of Parlimen Bukit Gantang were selected as the sample. In addition, this study attempts to adapt the Post Purchase Behaviour from the marketing field to examine the voters behaviour of the post 12th General Election. This study thus attempts to construct the concept of Post Voting Behaviour to identify to what extent the usefulness and effectiveness of Hirschman model in understanding the Post Voting Behaviour of voters and its capabilities in providing guidance to their voting trends in the next coming elections. Both quantitative and qualitative methods were utilised as sources of data collection. A total of one thousand and five hundred respondents was selected using systematic sampling method. SPSS softwarewas used to analyse the data. Interviews were conducted with academic experts and Member of Legislative Assembly of Perak. The findings indicated that Post Voting Behaviour has a relationship with both Party Characteristics and Voter's Characteristics. Further, this study also concluded that Hirschman's theory is relevant in measuring the Post Voting Behaviour. Therefore, the three responses (Exit, Voice and Loyalty) that have been proposed in the theory could serve as a basis in understanding the behaviour shown by the voters after an election particularly in Malaysia. This study has at least opened a new dimension of research in exploring voter's behaviour in Malaysia. The results of this study showed that some specific aspects of marketing could be incorporated to give a new perspective in understanding electoral politics and voting behaviour of Malaysians citizens.
Actions (login required)