Harahap, Rosmawati (2011) Kombur Jenaka Angkola Mandailing: Analisis Bentuk, Tema, dan Nilai. PhD. thesis, Universiti Utara Malaysia.
PDF




ROSMAWATI_HARAHAP.pdf


Restricted to Registered users only
Download (2MB)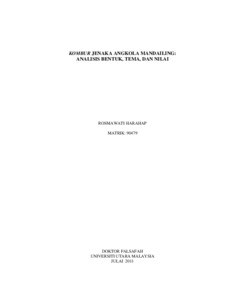 Preview
PDF




1.ROSMAWATI_HARAHAP.pdf


Download (250kB) | Preview
Abstract
The topic of this research is "Kombur Jenaka Angkola Mandailing: An Analysis on Form, Theme and Value". The objective of this study is to clarify the form, theme and
value contained in the expression of comedy (kombur jenaka) in the Angkola Mandailing language amongst its citizens. The methodology used in this study is qualitative, with observatory and interview techniques. Data is gathered by recording the speed of the expressed dictation with a tape recorder. The researcher listens to the taped recording so as to understand spontaneous conversational utterances in the Angkola Mandailing language. The main data sources are selected several elderly informants residing in the Angkola Mandailing district. Research findings reflected from the comedy (kombur jenaka) expressed by the informants are lingual texts which implicate maxim representation (representative), maxim order (directives), maxim argument and maxim imperative combined with paralingual elements. Maxims which are absorbed in the kombur jenaka conversations consist of direct illocutionary acts, locutionary acts, and perlocutionary acts, which are analysed pragmatically and semantically. Data is analysed by using the pragmatic and structural functional thematic approaches. Legend, humour, anecdotes and puzzles are a form of kombur jenaka. Traditional prose, humour and anecdotes expressed by the informants in the kombur jenaka are in the form of dominant contemporary prose which carries the theme of dumb but smart human characters. Such comedy stories, which are characterized by people with the above mentioned character, carries a symbolic meaning in the Angkola Mandailing society. Meanwhile, transgression on both the speech maxims gives rise to implications on the following two matters: (1) the Angkola Mandailing people are intelligent in expressing their jokes ironically to
entice friends; (2) the Angkola Mandailing people need to ethically adhere to communicative strategies on polite and positive speeches in conversations with respect to their social status. This polite and positive maxim serves as a guide to a harmonious life for the Angkola Mandailing people. Based on the findings of this research, the kombur jenaka is therefore,a comedy discourse, which is effectively used in the daily conversational activities of the Angkola Mandailing people.
Actions (login required)