Jalaluddin, , (2012) Perlombongan Arang Batu dan Hak Asasi Manusia di Kalimantan Selatan-Indonesia. PhD. thesis, Universiti Utara Malaysia.
Text




JALALUDDIN.pdf


Restricted to Registered users only
Download (2MB) | Request a copy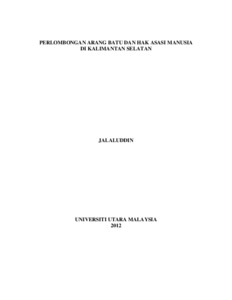 Preview
Text




JALALUDDIN.pdf


Download (694kB) | Preview
Abstract
Research on the existing literature about coal mining in various countries often have a negative impact on the rights of society, particularly in relation to its environmental well being and health. However, the literature has yet to determine at what stage does the infringement occur. Thus, this research aims to find out the impact of coal mining on human rights, the environment and the enforcement challenges faced by the authorities in protecting the human rights on the environment in the administration of coal mining in South Kalimantan. This is a qualitative study using a case-study approach on Kampung Ness 15, Desa Tatakan, Tapin Region South Kalimantan. The data collected and face to face interviews revealed that the coal mining activities had severely damaged the environment and there were human rights violations against the environment. The damage affected the village population, river water, arable land, flora and fauna. Thus, the environmental damage has infringed on the people's rights guaranteed by Section 1 of the Stockholm Declaration, Section 28H of the Constitution of the Republic of Indonesia, Section 9 paragraph (3) of Act No. 9 of 1999 on Human Rights which is to live in a good and healthy environment. The environmental damaged not only affects the current population, but also the future generations. This is considered a very serious violation of human rights. The study also highlights the challenges faced by the authority in enforcing the law against human rights violations on the environment and the inability to act as required by the law. The study proposed an immediate reform in the enforcement of the law on human rights in the administration of coal mining in South Kalimantan, Indonesia.
Actions (login required)