Teuku Rezasyah, , (2011) Indonesia's Engagement Strategy Towards Australia : The Strengthening of Interdependence, 1983-1996. PhD. thesis, Universiti Utara Malaysia.
PDF




TEUKU_REZASYAH.pdf


Restricted to Registered users only
Download (1MB) | Request a copy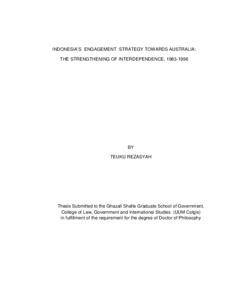 Preview
PDF




1.TEUKU_REZASYAH.pdf


Download (252kB) | Preview
Abstract
Relations between Indonesia and Australia before 1983 were not very cordial due to a number of factors. Soeharto, who was the President of Indonesia at that time, however felt that for Indonesia's own national interests and for regional considerations, a healthier climate of relations between the two neighbours was vital and should be developed. President Soeharto therefore initiated a policy of Engagement Strategy with Australia from 1983 to 1996 which eventually ushered in a period of highly strengthened relations between the two countries between 1992-1996. The problem statement of the thesis is what were the considerations that prompted President Soeharto to launch the policy of Engagement Strategy with Australia, what were its underlying elements and why was it highly successful. The main objective of this study therefore is to examine the key elements and the underlying dynamics of the Engagement Strategy initiated by Indonesia's President Soeharto with the Australian government from 1983-1996 and its achievements which led to heightened cooperation between the two countries. This research employs the qualitative method using the historical approach relying strongly on documents issued by the governments of Indonesia and Australia, as well as supported by in-depth interviews with experts on the subject. Findings show that the Engagement Strategy was not so successful in the initial period from 1983 to 1987 but Soeharto persisted in his initiative and launched re-engagement in 1988. This new initiative was very productive and brought in its wake a period of greatly enhanced and strengthened relations between the two countries in the political, economic and military fields. Some of the high points of this increased cooperation were the Timor Gap Treaty of 1991, the APEC Summit of 1994, and the Agreement of Mutual Security of 1995. The period of 1992-1996 can therefore be described as an exceptionally high point in the history of Indonesia-Australia relations. The significance of the study is that it hopes to shed more light on Indonesia's relations with Australia which were rather strained most of the time, but significantly improved during a short period, 1992-1996. It also hopes to reveal some of the Dynamics of Regional Cooperation.
Actions (login required)