Phathara-On, Wesarat (2012) Career Motivation of NGO Professionals in Songkhla Province of Thailand: A Qualitative Study. PhD. thesis, Universiti Utara Malaysia.
Text




PHATHARA-ON_WESARAT.pdf


Restricted to Registered users only
Download (6MB)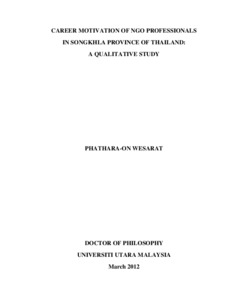 Preview
Text




PHATHARA-ON_WESARAT.pdf


Download (865kB) | Preview
Abstract
The aim of this study was to investigate the career motivation of professionals in non-governmental organizations (NGOs) in Songkhla province of Thailand. Professionals were defined as the university graduates. The research questions were: What factors motivate the NGO professionals to choose NGOs as the workplace? Why did the professionals choose the NGO over the other alternative career options? Later when they were more experienced, why did they choose to continue to remain in the NGO profession? A mixed method within qualitative approach using in-depth interviews, non-participant observation and secondary document analysis was utilized to conduct the study. There were 16 respondents who came from 5 NGOs in Songkhla province. All 5 NGOs that were chosen to conduct the research were the members of the NGO Coordinating Committee on Rural Development in the South of Thailand (NGO-COD South). Hahn's (2008) data analysis model was used as the basis of qualitative data analysis. The level 1, level 2, and level 3 coding of Hahn's (2008) data analysis model was adopted for reducing the qualitative data, category development, and refining the themes respectively. This study had reached the level 3 coding of Hahn's (2008) data analysis model. Then, the refined themes were used for writing the thesis. This study found that the NGO professionals in Songkhla province seemed to be motivated by non-financial factors (social goals, job characteristics, commitment, and happiness at work) rather than financial factors (salary and benefits). Since this study purposely chose the NGOs in Songkhla province of Thailand for qualitative investigation, the results of this study may not be generalizable to other regions or other sectors. Therefore, the future researchers should explore further on the issue of career motivation in NGOs in other regions as well as the issue of career motivation in other sectors (i.e. public sector and private sector) in order to fill up the gap of knowledge in this area.
Actions (login required)