Zamzam, Mohd Walid (2012) Sinisisme Tenaga Pengajar Politeknik di Malaysia Terhadap Perubahan Khusus Organisasi. PhD. thesis, Universiti Utara Malaysia.
Text




ZAMZAM_MOHD_WALID.pdf


Restricted to Registered users only
Download (4MB)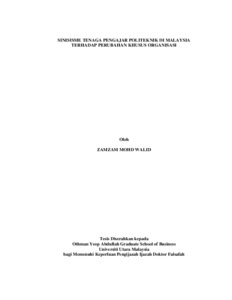 Preview
Text




ZAMZAM_MOHD_WALID.pdf


Download (882kB) | Preview
Abstract
Employee's cynicism towards organizational change or known as change-specific cynicism refers to the tendency of employees to be cynical about any changes introduced by their respective organisations. Specific change in the organization of this study focuses on changes in the service scheme of Polytechnic teachers that is from Pegawai Perkhidmatan Pendidikan Siswazah and Pegawai Perkhidmatan Pendidikan Lepasan Diploma to the new service's scheme namely Pegawai Perkhidmatan Pengajian Tinggi. This study examines the roles of informational, organizational and social support factors in influencing employees' cynicism when dealing with organisational change. It also assesses the relationship between change-specific cynicism with intention to resist changes. A total of 263 teachers working in the Polytechnics in Malaysia have been chosen as sample in this study. The study shows that the level of cynicism in the overall respondents to an average level. However, post-hoc ANOVA tests shows that high level of cynicism among respondents aged 36 to 40 years, has a diploma as the highest academic achievement, grade positions DH29 to DH34 and have the experience to serve between 11 to 13 years. However, the t-test shows that respondent gender makes no difference in terms of the level of their cynicism. The findings of this study state that there are three factors that negatively influencing change-specific cynicism; that is perceived information quality (Beta -0.44), perceived information justice (Beta -0.38) and supervisor support in career development (Beta -0.15). Other predictor factors being tested, namely trust in management, organizational identification, perceived organizational support, supervisor support in the development of personal and perceived support of a colleague does not affect the change-specific cynicism. Regression testing of all the predictor factors on change-specific cynicism produces R2 value of 0.63. Result of the present study also shows that there is a positive relationship between change-specific cynicism with the intention to resist change and create value R2 of 0.36. This indicates that the formation of a framework based on a study of Social Information Processing Theory of a very good impact on the findings. Theoretical and practical implications of the study details as well as suggestions for future research are discussed.
Actions (login required)