Mohd. Idris, Omar (2001) Faktor-faktor Masalah Akademik Pelajar Bumiputera Dengan Pelajar Bukan Bumiputera Di Institusi Pengajian Tinggi Awam : Kajian Kes Di Universiti Utara Malaysia. Masters thesis, Universiti Utara Malaysia.
PDF




Mohd._Idris_bin_Omar,_2001.pdf


Restricted to Registered users only
Download (2MB)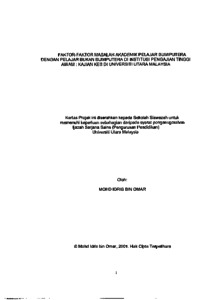 Preview
PDF




1.Mohd._Idris_bin_Omar,_2001.pdf


Download (433kB) | Preview
Abstract
The objective of this study is to identify factors of academic problems among Bumiputera and non-Bumiputera students in Universiti Utara Malaysia. The independent variables are the test and general procrastination, self-efficiency and study habits. The dependent variables is academic difficulties. Altogether 228 Bumiputera and 100 non-Bumiputera students became the sample for this study. The method used to obtain data was by using questionnaires, which contained items that were based on
a number of models suggested by educational psychologists
specialist. This study used descriptive and inferential statistics to analyse the data, namely percentage, mean, standard deviation, t-test and correlation. The result of this study shows that test and general procrastination factors and self-efficiency are correlated with the students' academic difficulties. However, study habit is found not to be significantly correlated with academic difficulty.
Actions (login required)