Pankeowta, Lakkanawanit (2012) The Influence of Stakeholder Salience and Engagement on Corporate Social Responsibility (CSR) Disclosure of Companies Listed on the Stock Exchange of Thailand. PhD. thesis, Universiti Utara Malaysia.
Text




s92211.pdf


Restricted to Registered users only
Download (10MB)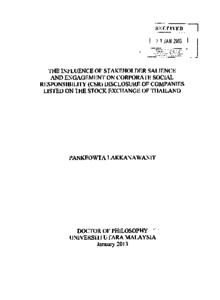 Preview
Text




s92211.pdf


Download (1MB) | Preview
Abstract
This study aims to examine the association between stakeholder attributes and salience, stakeholder engagement, and corporate social responsibility (CSR) disclosure. As corporate responsibility towards stakeholders has been prominent in CSR literature and practice, this study attempts to provide insight into how companies accord salience and response to different stakeholders. The associations between variables were examined through each of the six different stakeholder groups: customers, suppliers, employees, shareholders, environment, and communities. Data for stakeholder attributes, salience and engagement were collected through a questionnaire survey from 123 listed companies in Thailand, while data for CSR disclosure were obtained by content analysis of those companies' annual reports. The results of multiple regressions reveal the association between salience and engagement for all of six stakeholder groups. However, the associations of salience or engagement on CSR disclosure are found for only some stakeholder groups. Suggestively, the companies, despite the engagement in line with salience, do not disclose all information. The results show that the association between engagement and CSR disclosure is found only for environment, communities, and employees. The groups also reveal the association between legitimacy and salience, indicating the connection between the association of legitimacy on salience and of engagement on disclosure. Moreover, it is found that only environment and communities demonstrate the association between salience and CSR disclosure and mediation of engagement on that association. This study deepens the understanding of how attributes and salience of stakeholders matter for companies' actions to
engage with and disclose information regarding stakeholders. The findings are useful for regulators or policy makers to promote the stakeholder engagement and CSR disclosure in Thailand. Moreover, they are useful for disclosure users and researchers to determine the companies' responsibility towards stakeholders through the content of disclosure.
Actions (login required)