Madi, Hisham K. M (2012) Audit Committee Effectiveness and Voluntary Disclosure in Malaysia: PRE and Post Introduction of the Revisd Malaysian Code on Corporate Governance 2007. PhD. thesis, Universiti Utara Malaysia.
Text




s90643.pdf


Restricted to Registered users only
Download (3MB)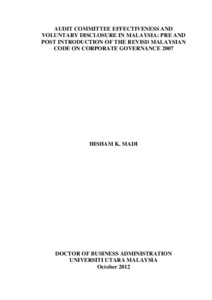 Preview
Text




s90643.pdf


Download (1MB) | Preview
Abstract
Global economic crisis in 2008 has increased the focus on the role of audit committee in ensuring integrity and transparency in corporate reporting. Audit committee characteristics are crucial in determining the ability of audit committee in carrying out its responsibilities effectively. Hence, this study aims to investigate the contribution of audit committee characteristics to audit committee effectiveness over corporate voluntary disclosure by Malaysian listed firms. This study also examines the effect of board of directors' characteristics on the level of voluntary disclosure. In addition, this study investigates the moderating effect of corporate board governance and concentrated ownership with audit committee effectiveness and corporate voluntary disclosure. Based on annual reports of 2006 and 2009, the study used 292 firms listed on Bursa Malaysia. The empirical results reveal that higher proportion of independent directors on audit committee, and totally independent audit committee members can lead to significantly a higher level of voluntary disclosure. Further, members with accounting expertise and multiple directorships, and also the size of audit committee are significantly associated with corporate voluntary disclosure. Surprisingly, results on board of directors indicate that none of the board attributes appear to determine corporate voluntary disclosure. The results further reveal that neither board governance nor concentrated ownership moderate the association between audit committee effectiveness and the level of voluntary disclosure. The findings of this study show that audit committee characteristics enhance the effectiveness of audit committee as a monitoring role, and hence mitigating the agency problems associated with corporate disclosure practices. Policy makers and regulatory bodies should interpret this evidence as motivation for them to strengthen corporate boards' practices to effectively deal with the unique features of corporate governance in emerging economies such as Malaysia.
Actions (login required)