Tengku Aroal Hawa Delaila, Tengku Ahmad (2012) Brand Reputation Management: The Influence of Brand Culture, Expression and Experience Toward Brands Reputation. Masters thesis, Universiti Utara Malaysia.
Text




s807367.pdf


Restricted to Registered users only
Download (1MB) | Request a copy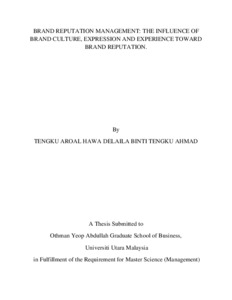 Preview
Text




s807367.pdf


Download (788kB) | Preview
Abstract
The objective of this study was to examine the influence between the brand management factors which are Brand Culture, Brand Expression and Brand Experience towards Brand Reputation among university students. The research done by mean of survey, a questionnaire was distributed to 380 respondents. Data was analyzed by "Statistical Package for Social Science" (SPSS Windows) Version 16.0. Regression analysis was used to test the influence between the variables. Regression result shows that three variables (Brand Culture, Brand Expression and Brand Experience) also Brand Reputation were related. Brand Culture has the higher effect on Brand Reputation. This means that Brand Culture is the dominant factor influencing the Brand Reputation of the universities students. These findings show that the related factors should be given attention to better manage university brand management. The preceding findings can be
used to support those who are managing higher education institution branding, or intending to develop a university brand. As the stiff competition among universities increase, there is a probability that the higher education institutions spend a substantial amounts of fund on branding activities to attract students. Branding in higher education institution has become accepted practice. Some recommendations have been offered for the organization and future research.
Actions (login required)