Ghazlizar, Ghazali (2012) Tahap Kesedaran Staf Terhadap Keselamatan di Tempat Kerja: Kajian Kes di Kolej Sains Perubatan Antarabangsa Pusrawi. Masters thesis, Universiti Utara Malaysia.
Text




s809067.pdf


Restricted to Registered users only
Download (2MB)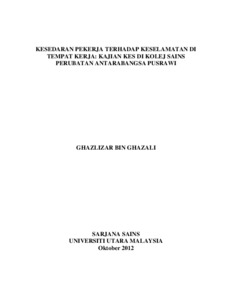 Preview
Text




s809067.pdf


Download (630kB) | Preview
Abstract
The purpose of this study is to determine the level of awareness among PICOMS staff towards safety at the workplace. The respondents comprised of 110 academic and nonacademic staff who work in Academic block and Administration block. Questionnaires were used as the main instrument for obtaining data for this study. The data were analyzed descriptively based on frequency, percentage and mean in order to determine the level of awareness of the respondents towards safety. The results showed that PICOMS staff had a high level of awareness of safety based on their overall mean score of 4.17. Aspects of the staff's level of awareness towards safety that were studied were policy, procedure, equipment, training, Department of Safety and Health and commitment as well as environment. The analysis showed that PICOMS staff have awareness of the aspects of security policy with a mean score of 4.80 where the respondents are aware of the importance of the security policy. While it appears that staff PICOMS have the lowest level of awareness with scores of 3.70 in terms of safety in the workplace in relation to the equipment. The results also clearly show that PICOMS staff have a high level of awareness of aspects of the commitment and attitude also has a high level of compliance set by PICOMS training relating to job security when their show scores of consciousness at a rate of 4.47 and 4.45. However, although the level of awareness of the environment, and procedures JKKKP quite high, this aspect should be given more attention because of these aspects is an important factor in ensuring job security more secure. T-test results show the level of safety awareness by demographic factors showed significant differences in mean score on the probability level α = 0.05 in terms of the Safety Policy, Safety Procedures, Safety and Environmental Training.
Actions (login required)