Hadi Hidayat, , (2012) Kajian Terhadap Pembangunan Pelancongan Lestari di Kawasan Pantai Chenang, Langkawi. Masters thesis, Universiti Utara Malaysia.
Text




s809243.pdf


Restricted to Registered users only
Download (3MB) | Request a copy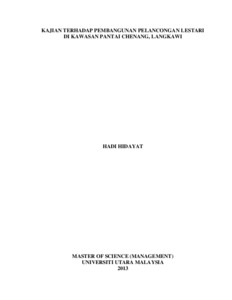 Preview
Text




s809243.pdf


Download (353kB) | Preview
Abstract
Tourism is one of the major potential sources of income in a country's development. The tourism industry is also capable to generate income locally. Sustainable development should be planned efficiently to move the economy. The beauty of the beach is an important asset in the tourism industry. This study attempts to analyze the performance of local government program through Sustainable Tourism Development Chenang Coast formulated under the Special Plan Chenang Beach Area. The study discovered some programs cannot be fully implemented as there are some big challenges to revitalize Chenang Coast. The study also found that the Chenang Coast FSP program has not yet achieved the overall objective of Sustainable Tourism Development. Some of the best alternative has been proposed to help the stakeholders to create sustainable tourism development in Chenang Coast.
Actions (login required)