Zuraida, Muhammad Hashim (2012) A Study on Critical Success Factors (CSFs) of Soft Technology Implementation in Manufacturing Companies. Masters thesis, Universiti Utara Malaysia.
Text




s804304.pdf


Restricted to Registered users only
Download (538kB)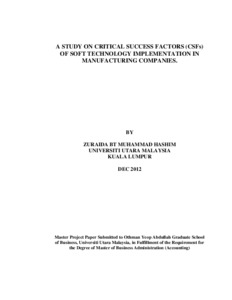 Preview
Text




s804304.pdf


Download (227kB) | Preview
Abstract
The study aims to identify the possible critical factors that contribute to the success of soft technology such as Total Quality Management (TQM) and Just-In-Time (JIT)
implementation in manufacturing companies. This study also investigates soft technology and technology adoption, using the critical success factors (CSFs) approach, implementation success factors, indicators of technology success, and some previous studies. The data collected using a mailed questionnaires survey of manufacturing companies in the state of Selangor. Result of the study shows that top management support and commitment and proper strategic planning are the success factors for manufacturing companies in implementation soft technology. The relationship between those two variables is significant and correlation is very strong. The outcomes provide useful insights into our knowledge of how these possible critical factors will be useful in devising suitable approaches that will benefit manufacturing companies. A set of questionnaires were sent to 100 organizations within the manufacturing companies in Selangor.
Actions (login required)