Harun, Kurniawan (2012) Keberkesanan Pembangunan Pelancongan di Majlis Daerah Sik. Masters thesis, Universiti Utara Malaysia.
Text




s809244.pdf


Restricted to Registered users only
Download (2MB)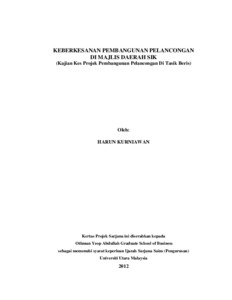 Preview
Text




s809244.pdf


Download (98kB) | Preview
Abstract
Development of the tourism industry in Sik is expected to contribute in the economic and social return to the people surround. Within the recognition of this situation, some of the facilitation of the infrastructure has been developed through the channeling of development funds from the State Government. Tasik Beris is an artificial lake among the most beautiful across the state. In general, the proposed of the development of Tasik Beris by the Majlis Daerah Sik is divided into two, namely Short Term Plan and Long Term Plan. Beris Lake developmental milestones Majlis Daerah Sik achievements divided into three (3); achievements of objective, total tourists arrival, and financial returns. Effectiveness of tourism development projects in Tasik Beris not yet able to achieve the goal of tourism development in Tasik Beris. It is based on the results of studies, for example the formulation of goals/objectives Beris Lake development, that have not been identified by using the SMART principle (Specific, Measurable, Achievable /Attainable, Realistic, Timely); total tourist arrivals target has not been get the optimum because of the lack of promotion, lack of infrastructure and support services; unable to attract the private sector to invest, and financial results obtained in Tasik Beris give unappropriate returns to the Majlis Daerah Sik due to the rental building cost is too low compared to the cost of construction, a construction without a license or planning permission and land invasion of Majlis Daerah Sik properties. Other aspects such as proposal, a SWOT analysis as well as the tourism development projects in Tasik Beris effects will be discussed and clarified.
Actions (login required)