Ng, Beng Hiang (2001) BPR For Total Warranty Return Management : Frazier (M) Sdn. Bhd. Masters thesis, Universiti Utara Malaysia.
PDF




Ng_Beng_Hiang,_2001.pdf


Restricted to Registered users only
Download (3MB) | Request a copy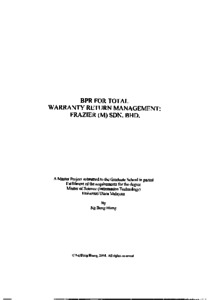 Preview
PDF




1.Ng_Beng_Hiang,_2001.pdf


Download (502kB) | Preview
Abstract
This is a case study project on the BPR for the Total Warranty Return Management at Frazier (M) Sdn Bhd. The BPR in this project is to reengineer the current process with the usage of information technology, and the Japanese Management system, 5s and Kanban. Information technology involved developing a database for data tracking. Yourdon's Structured Methodology (YSM) has been used
as main model structure of system analysis and design. Several system development tools are involved in the process of database development. An Inventory Control database has been created, to link all information together, that provide the date of receiving, RMA
number (which is the lot number), AWB, HAWB, total cartons and the status for the whole RMA. The database can be use for receiving and planning area. The database did improve the efficiency and effectiveness of data and information handling. Through automation at certain area, it increased the productivity and fulfill customer requirements. While 5s and Kanban has given a good storage method and safety workplace. BPR is not just using the latest information
technology to work on the old business systems. IT only plays the key role in reducing paper work, generating efficiency and accuracy. The support of top management is a key success factor of BPR.
Actions (login required)