Ng, Swan Fang (2001) E-travel Catalogue Application For Tourism In Malaysia. Masters thesis, Universiti Utara Malaysia.
PDF




Ng_Swan_Fang,_2001.pdf


Restricted to Registered users only
Download (6MB) | Request a copy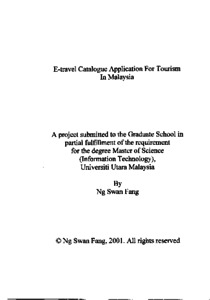 Preview
PDF




1.Ng_Swan_Fang,_2001.pdf


Download (460kB) | Preview
Abstract
The purpose of this project is to develop a prototype e-travel catalogue application for tourism in Malaysia. The e-travel Malaysia provides full reservation online services to customers. These services include booking
room, booking flight, rent a car, booking holidays package etc. Besides, etravel Malaysia also offers free and useful travel information to travelers likes, popular place in Malaysia, special interest that can found in Malaysia,
etc. E-travel Malaysia includes three main functional modules in the business model. These are view information module, online reservation module, and advertisement module. This project uses the Web Page Development Methodology (WPD) as the development methodology. Finally, this project discusses some flaws and constraints of this project, and some recommendations for the future development of this project.
Actions (login required)