Norazlinda, Saad (2001) Laporan Kabinet Dan Tumpuannya Terhadap Isu-Isu Integrasi Nasional Di Malaysia. Masters thesis, Universiti Utara Malaysia.
PDF




Norazlinda_binti_Saad,_2001.pdf


Restricted to Registered users only
Download (6MB) | Request a copy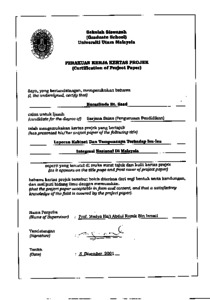 Preview
PDF




1.Norazlinda_binti_Saad,_2001.pdf


Download (669kB) | Preview
Abstract
This research intended to find out the effectiveness of the suggestions and acknowledgement make by the Cabinet Member Research Of Education Act Report regarding the school system and curiculum in developing a good sense
towards national integration and national unity. It focus towards some main points such as the procedure and rational of the development process. This is the main
basis in historical context and national education reformation apart from the Education Act 1961. This qualitative research technique will make this research
base on the development of the national education system in the post independent years and focuses on the development of national education after 1979, concerning the introduction of Cabinet Member Research Of Education Act Report and also five of the main national integration issues that regarded as the main factor that give major implication on the school system and curiculum. The
findings of the research revealed that the efforts taken by the government in promoting national integration get a negative reaction and objection, especially by the Chinese community. The Chinese community opposed the proposed plan to set up Integration School and Vision School that intended to bring the unity among the Malaysian community because they thinks that it will only eliminate their identity, cultural and their heritage such as their songs that they try to preserved. They also requested that other languages apart from the national language get the equal privileges as Malay language. Even though it is written in
the Education Act 1996 and in the National Educational Policy regarding the National School and National School Type, the Chinese community still cannot accept the concept although they had requested for The Independent University especially for the Chinese community 30 years ago. The outcome of the Cabinet Report has triggered one reformation program that tougher and covers more area
base on the acknowledgments received.
Actions (login required)