Alameady, Mali H. Hakem (2007) Speech-Activated Telephone Directory Assistance. Masters thesis, Universiti Utara Malaysia.
PDF




mali.pdf


Restricted to Registered users only
Download (2MB) | Request a copy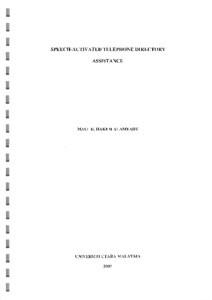 Preview
PDF




mali.pdf


Download (472kB) | Preview
Abstract
In everyday life people are all liable to find themselves in an emergency situation and, more commonly, will require to be alerted to signals that give a warning or indication of action to be taken. The means to access services and equipment to ensure safety and comfort are well known, readily available and usually at little or no cost. Majority of public emergency services are accessed by telephone for example the access to the Fire, Police and Ambulance services by picking up the telephone and dialing 994, 999 etc. However, less-able people such as elderly, disabled, children and lower-educated may not be able to use the services that are available because of disability or find equipment that will ensure personal safety and confort. Hence, this study aims to propose a speech
activated telephone assistance K-Nearest Neighbours. User only needs to give command through voice, and then the system will assist the caller to search the telephone directory and dial the required phone number. This can fasten the dialing as the user no need search or recall the number. The system include three main module namely, Speech Features Extraction Module; that extracts the speech features. Speech Recognition Module; that classifies spoken word ("Fire", "Ambulance" and "Police") and Automated Dialing; that searches and dials the number that matched with the spoken word.
Actions (login required)