Djusmalinar, , (2013) Relasi Gender dalam Novel Terpilih Indonesia dan Malaysia. PhD. thesis, Universiti Utara Malaysia.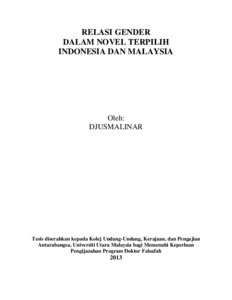 Preview
Text




s91598.pdf


Download (2MB) | Preview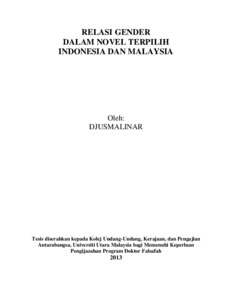 Preview
Text




s91598.pdf


Download (2MB) | Preview
Abstract
Issues on gender have been seen from different points of view, whether from social, political, economic, legal, or literary dimensions. In literature, gender issues have a great influence on the self, based on literature that literary authors have written, whether from Indonesia or
from Malaysia. Therefore, the main purpose of this research is to explain what attitudes, behavior, and cultural backgrounds influence actions by men and women, and how these are shown in ten novels written by male and female authors in both countries. This study used qualitative research approach based on the theories of structuralism and dialogism. The theory of structuralism is useful in analyzing the relationship between literary works and society, while the usefulness of dialogism is to see the relationship between the author and their readers. The results of gender analysis within society fall into three
categories, natural gender that which retains old values and lifestyles, nurture gender that cultural practices arise from emancipation, and equilibrium gender that liberal equality of status that leads to contradictions with social norms or religion. The themes presented by the authors were both supported and not supported. Support reader is considered functional support, whereas little or no support is considered dysfunctional. The gender study is available to focus on men's power, but this gender study is more focus on the actions and behavior of both men's and women's. This study then fulfills the need for more research on the actions and behavior of men's and women's groups, as well as showing the identity of a nation. Furthermore, this
research supports and verifies the importance of gender roles for both groups in developing the races and nation until together they create a peaceful society, peace, and harmony.
Actions (login required)