Zul Akrial, , (2013) Pampasan dan Restitusi Terhadap Mangsa Perbuatan Jenayah dalam Sistem Undang-Undang Jenayah Indonesia. PhD. thesis, Universiti Utara Malaysia.
UNSPECIFIED




s91478.pdf


Restricted to Registered users only
Download (1MB)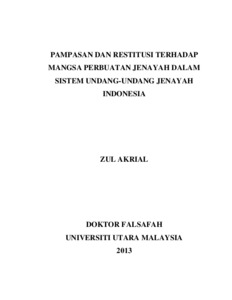 Preview
Text




s91478.pdf


Download (393kB) | Preview
Abstract
The development of compensation and restitution began with reactions towards an offence which caused damage to others, hence this enabled the person who suffered the damage to claim for compensation. The side effects of claiming for compensation has created a situation whereby the compensation granted towards the victimized party most often than not, is unproportional as compared to the actions by the offender. Subsequently, the damage suffered may be compensated in terms of property to the victim. Nevertheless, to what extent the criminal law in Indonesia provide these rights to victims? Not only does the offence involves the offender and the victim, but it also disrupts the balance of order in society. This study aims to analyse the compensation on damage suffered by the victim as the nation's responsibility as stated in the Indonesian Constitution. Secondly, to examine the legislation policy on restitution to victims in the Indonesian criminal law system. Thirdly, to investigate the mechanism of implementing restitution in the job specifications related to the Prosecutor and Witness and Victim Protection Board. Lastly, to propose improvements on the law which relate to compensation and restitution in the Indonesian criminal law system. This is a descriptive study which adopts the qualitative research design to address questions related to compensation and restitution with the aim to provide an accurate reflection on compensation and restitution in the Indonesian criminal law system. The findings suggest that compensation is only given to victims of crimes pertaining to serious breach of human rights. Protection of victims in criminal law refers to abstract protection which is related to indirect protection. Direct protection which exists in the form of restitution in Kitab Undang-Undang Hukum Pidana. From the history and law perspective, there is an overlap of job specifications and power between the Prosecutor and Witness and Victim Protection Board in the implementation of the restitution mechanism in crime jurisdiction system of Indonesia. In conclusion, the nation is responsible to maintain safety and order of the society, hence the crimes committed are the responsibility of the nation.
Actions (login required)