Ragumaran, Raman (2001) A Critical Review Of Knowledge Management Models. Masters thesis, Universiti Utara Malaysia.
PDF




Raguraman_Raman,_2001.pdf


Restricted to Registered users only
Download (2MB) | Request a copy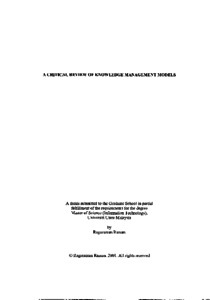 Preview
PDF




1.Raguraman_Raman,_2001.pdf


Download (468kB) | Preview
Abstract
Organizations are realizing how important it is to "know what they know" and be able to make maximum use of the knowledge. This knowledge resides in many different places such as databases, knowledge bases, filling cabinets and peoples' heads and is distributed right across the enterprise. Most of the time one section of an enterprise repeats work of another section simply because it is impossible to keep track of, and make use of, knowledge in other sections. Organizations need to know what their knowledge assets are and how to manage and make use of these assets to get maximum return. This paper discusses in detail the definition, kinds, and components of a few Knowledge Management models. Based on this critical discussion, an integrated business model to facilitate knowledge creation, sharing, and discovery is tentatively suggested to act as a basic and generic guide for
implementation by organizations and for further research. This model is generated after taking into considerations the limitations of all the other models. This model
will also give an insight to the types, forms and availability of knowledge within an organization. This in turn will enable organizations to develop new knowledge, track its knowledge, manage and preserve their knowledge while encouraging its staff to use and share their knowledge. When implemented, knowledge management will
translate in effective and efficient resource management, customer support and service, redundancy or bottleneck elimination, cost reduction and improving many other aspects of the organizations.
Actions (login required)