Nor Afiza, Ismail (2010) A Study on the Usage of Instructional Tools : Towards Meaningful Teaching and Students' Appreciation in Literature. Masters thesis, Universiti Utara Malaysia.
Text




s800591.pdf


Restricted to Registered users only
Download (2MB)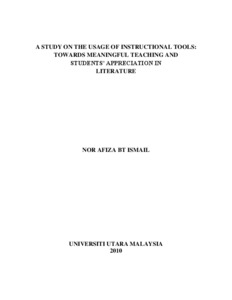 Preview
Text




s800591.pdf


Download (1MB) | Preview
Abstract
Literature component have been as an essential and popular components of languages courses in the Malaysia English Second Language (ESL) context. Curriculum Development Centre, Ministry of Education (MOE) has implemented the literature component for English Language Subject in secondary schools. The incorporation of literature in the curriculum of English Language Teaching (ELT) also has been noteworthy over the last 20 years. Studying literature educates students to appreciate the literature and enhance their English Language Skills in total. In the new era of information and communications technology, teaching and learning English literature can be more meaningful and attract students to participate well in the lessons. Students' participation is important element in achieving the desire learning outcomes. Therefore, the usage of the instructional tools in teaching literature is an advanced towards in generating students' participation and learning outcomes. Thus, this study is purposely to determine students' learning outcomes and their participation when teacher using these technologies in the classroom. Besides that, the researcher also wanted to determine similarities and differences of the learning outcomes when teacher applying any instructional tools in teaching literature. The findings of the study, obtained via qualitative approach are hopefully can further positive impact towards student appreciation in learning literature.
Actions (login required)