Renganathan, Sudasni Panayan (2001) "Internet and E-Commerce Cyber Law For The Virtual Market Place" - A Brief Overview On The Current Situation. Masters thesis, Universiti Utara Malaysia.
PDF




Sudasni_Panayan_Renganathan,_2001.pdf


Restricted to Registered users only
Download (2MB) | Request a copy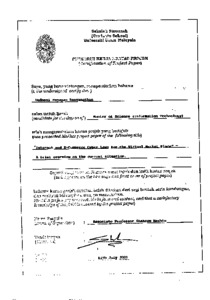 Preview
PDF




1.Sudasni_Panayan_Renganathan,_2001.pdf


Download (550kB) | Preview
Abstract
Internet has caused the emergence of 'Cyberspace' through which business transactions can be undertaken 'paperless' anytime, anywhere and practically without binding laws.
Some countries have made a bold attempt to enact 'Cyber Laws' to regulate the Internet and among these, the US Laws are regarded as a source of reference by others.
On the whole, the US Cyber Laws deal on the three specific areas of Internet use: Access control, Consumer privacy and Security in the cyberspace. Sixteen federal laws
with another eleven statutory provisions collectively provide the regulatory framework for these. In the US Cyber Laws are often challenged illegal as infringing on
fundamental rights. Hence, the government shows reluctance to enact Cyber Laws on a preemptive basis and instead, prefer the industry to devise its own self-regulatory
controls. Unlike the US, Singapore's Cyber Laws are on the Internet Access, Computer abuse, Electronic transactions, Intellectual property and Consumer protection. 'Internet
Access' includes also 'content creation, their 'transmission' and relevant codes of practices. Laws under the remaining four mainly deal on the various aspects of ecommerce. Laws are enacted on a preemptive basis with provisions for the industry to devise its own 'codes of good practices.' As a regional centre for commerce and finance, Singapore recognizes the emerging importance of k-economy and ecommerce, and its Cyber Laws are meant for the eventual conversion to these. In the race towards embracing Internet and conversion to k-economy, Malaysia had adopted a novel 'leap-forge' strategy. It is the establishment of the Multimedia Super
Corridor (MSC), designated to be the 'international test bed' for IT-based ideas. The MSC is claimed to be the "gift to the world" and IT industries are invited to MSC with
incentives and protections, including through enacting 'innovative' Cyber Laws. Content-wise, these Cyber Laws are almost similar to those of others except their 'extra-territorial reach' in intended enforcement. The government aims to champion these Cyber Laws for the eventual 'international acceptance and adoption'. On theory, these Laws are 'internationally binding and enforceable' at present. Malaysia had in fact assumed the role of a pacesetter in drafting Laws for the cyberspace and only time can determine the eventual success of this assumed leadership.
Actions (login required)