Nor Hayati, Hussain (2014) Tahap prevalen pengetahuan amalan dan praktis ke atas tusukan jarum suntikan di kalangan pelajar-pelajar diploma Fakulti Sains Kesihatan dan Sains Hayat, Management and Science University (MSU). Masters thesis, Universiti Utara Malaysia.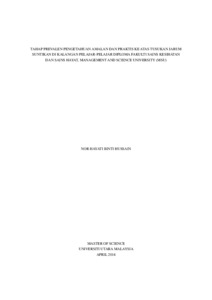 Preview
Text




s809089.pdf


Download (6MB) | Preview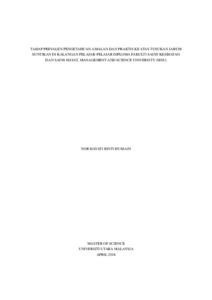 Preview
Text




s809089_abstract.pdf


Download (2MB) | Preview
Abstract
Percutaneous injury as a result of needle pricks is a common phenomenon among health care workers and health students. This result in the transmission of diseases caused by blood borne pathogen from patients to workers and
students, which is very dangerous. Factors that contribute to needle prickinclude during injection, blood transfer from syringe to specimen bottle, from scissors, scalpel, during washing as well as during disposal of needles into
sharp bins (Sumathi, 2009). The risk of disease transmission depends on the number of patients as well as the level of awareness of health care workers towards infection from blood-borne pathogen produced by the human body as well as unsafe environment. This study was carried out to determine the prevalence, awareness and practice of the student from the Faculty of Health and Life Science, MSU, especially the nursing and medical assistant students.
The study was designed as a cross sectional and quantitative study to evaluate the knowledge level, attitude and practice of MSU's Health and Life Sciences
students. It was found that (14.0%) students have experienced needle prick injuries before, with (80.0%) of the students being injured while in the ward. Of this, (60.0%) was pricked when uncapping syringes The area where the most injuries took place was in the ward (80.0%) due to the fact that during the period when the students were training in the hospitals, they were mostly placed in wards compared to practical rooms, emergency unit and laboratory.
The majority of MSU's health sciences students are very aware about diseases caused by blood borne pathogens related to NSIs. This study can be used as a guide for the preparation of policies regarding the use of sharp equipment and injections in clinical labs that should be adhered to by nursing and medical assistant students when they are performing their practical in the lab.
Actions (login required)