Shabandi, Md. Sarip (2014) Komitmen keselamatan pelatih Institut Kemahiran Belia Negara Chembong. Masters thesis, Universiti Utara Malaysia.
Text




s809098.pdf


Restricted to Registered users only
Download (1MB)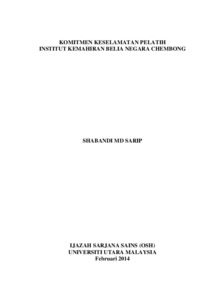 Preview
Text




s809098_abstract.pdf


Download (1MB) | Preview
Abstract
Safety commitment is an important factor in safety management especially the management of safety in an institution such as Institut Kemahiran Belia Negara
(IKBN) Chembong, At this point, the trainees are emphasize throughout our safety commitment aspects during their practical training in the institution. The research has
been carried out to ensure what are the demographic factors in the safety aspects which are practiced with emphasizing the relation between the respondent's demography and safety commitment factors as well as finding out what are the
relations. The objective of this research is to prove that the safety commitment is one of the significant roles of the development in safety culture which can be seen in each
of the trainee's behaviour. By using the questionnaire from the Azir (2010) research paper this research involved 275 respondents from IKBN Chembong with various ages, majors and levels of study. An understanding of the safety concepts among the trainees will help them to understand better the safety needs in IKBN and any rules that need to follow. Indirectly will affect the trainees current spends in the workplace when they have completed their studies. The finding of this research shows that the factors that influence the safety achievement is the success in forming the work safety culture and safety commitment in reducing accidents which involving institution and trainees. The research found that the existing of the significant relationship between age factor, gender and majors towards the safety commitment. Meanwhile there is no significant relationship between safety commitment and levels of study factor. Therefore, the suitable approach should be implement for the safety training and accident prevention program with emphasizing and taking consideration the trainees' levels of study.
Actions (login required)