Tan, Hong Giap (2001) Online Purchase System. Masters thesis, Universiti Utara Malaysia.
PDF




Tan_Hong_Giap,_2001.pdf


Restricted to Registered users only
Download (4MB) | Request a copy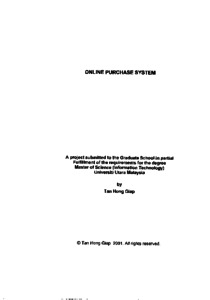 Preview
PDF




1.Tan_Hong_Giap,_2001.pdf


Download (318kB) | Preview
Abstract
e-Commerce is important information technology tool for
today business. Web based business has been build to has goal of reducing cost of organization operation and increase profit. It also provides excellent support for customer and builds a good customer relationship. This paper is to build a portion of online purchase system, focus on purchase requisition system. The system also adopts a new technology call XML for the web advantage. As the result, the project evaluates the combination of the XML technology and the purchase requisition system.
Actions (login required)