Zaihana, Manshor (2014) Kajian kecenderungan keusahawanan di kalangan pelatih Pusat Giat Mara Negeri Kedah. Masters thesis, Universiti Utara Malaysia.
Text




s812416.pdf


Restricted to Registered users only
Download (2MB)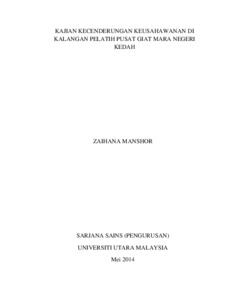 Preview
Text




s812416_abstract.pdf


Download (762kB) | Preview
Abstract
Generally, entrepreneurship is seen as a catalyst for economic development. Through the process of industrial businesses, jobs and innovation and creation, entrepreneurship is able to meet the economic needs of the country. Entrepreneurship also plays a very important role in the economic development of Malaysia through various activities. In fact, entrepreneurial inclination has been widely studied since decades ago. A lot of factors can be associated with the behavior of entrepreneurial inclination either internal or external factor. The purpose of this study is to identify whether demographic factors,
entrepreneurial traits, and professional training and skills have a significant relationship with entrepreneurial inclination among trainees of Giat Mara Kedah. They are from a variety of skills including fashion and dressmaking, confectionary and bakery, and so on. The skills and knowledge gained is very important in order to see their intention to become entrepreneurs. In addition, demographic factors such as gender, family involvement in the business and working experience were also tested to see differences
towards entrepreneurship inclination. Subsequently, 320 questionnaires were distributed among Giat Mara's trainees. A total of 315 questionnaires were returned back to the
researcher, and only 306 forms can be analyzed. The data gathered were analyzed using the "Statistical Package for Social Science (SPSS) Version 20". Several methods for
analyzing the data were used. In order to test the first hypothesis, that the difference between the gender, family involvement in the business and working experience towards
entrepreneurship inclination, t-test and One Way ANOVA were used. The second and third hypotheses involving the independent variables namely entrepreneurial characteristics and skills course tested through Pearson correlation analysis. The results of t-test showed that there is a difference between gender and the involvement of family members in engagement with entrepreneurship inclination. However, there is no significant difference between work experience and entrepreneurship inclination. In
addition, Pearson correlation analysis proves the existence of the relationship between the characteristics of entrepreneurial with entrepreneurial inclination. Course of skills and training also shows a positive and significant relationship with entrepreneurial intention. Besides, the result of regression analysis indicated that characteristics of entrepreneurial and course of skills and training influence entrepreneurial inclination among Giat Mara's trainees.
Actions (login required)