Mohd Faiz, Abu Bakkar (2014) Safety performance of electrical utility in Tenaga Nasional Berhad, Distribution Division Melaka. Masters thesis, Universiti Utara Malaysia.
Text




s809081.pdf


Restricted to Registered users only
Download (1MB) | Request a copy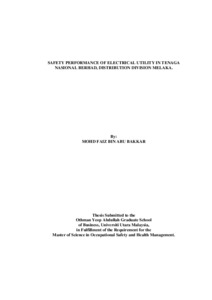 Preview
Text




s809081_abstract.pdf


Download (966kB) | Preview
Abstract
This research is a case study research, focused on the Distribution Division in Tenaga Nasional Berhad (Melaka). There are only two technical units under the Distribution Division which comprised of the Operation and Maintenance Unit and Construction and Planning Unit. A total of 131 respondents from the technical staff of TNB Melaka were randomly selected to be involved in the survey. The reason
these units were selected is because, they were the frontier who directly involve with electrical hazards between the ranges of 230 volt to 33,000 volt. The research
framework is management commitment, safety training, safety rules and procedure, safety compliance, and safety participation towards safety performance. Statistical
Package for Social Science (SPSS) version 19 is used to generate and analyzed data collected. In summary, from the findings, there is positive correlation on the relationship between management commitment, safety training, rules and procedure, safety compliance safety participation, and safety performance. The findings also proven that the independent variables, management commitment, safety training and safety rules and procedure did not influence safety performance. However safety compliance and safety participation do influence safety performance at TNB Melaka
Distribution Division. The implication of this study is very beneficial to TNB Melaka Distribution Division in improving their safety performance level in the workplace. By improving their safety performance in their workplace, TNB Melaka Distribution Division can reduce the risk, the injury and the cost of accident which will lead TNB Melaka Distribution Division to the growth of profits.
Actions (login required)