Nuraini, Mohd Amin (2014) Cross border shopping intention : An investigation of Malaysian Border Town (Padang Besar). Masters thesis, Universiti Utara Malaysia.
Text




s810123.pdf


Restricted to Registered users only
Download (1MB) | Request a copy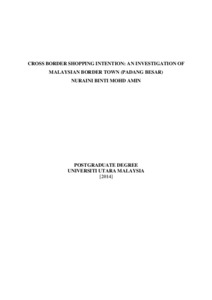 Preview
Text




s810123_abstract.pdf


Download (632kB) | Preview
Abstract
Cross border tourism can be modeled from the neo-classical economics theoretical demand framework based on an individual tourist/consumer visiting neighboring countries with the purpose of directly consuming goods and services which are cheaper in that country and/ or are unavailable in the country of origin. The border areas between Thailand and Malaysia are dynamic in terms of cross border activities. The study an intention cross border shopping behavior involve in four element factors: service quality, satisfaction, attitude and subjective norms. These factors can influence the tourist intention cross border shopping behavior to borderland which is province of Padang Besar and Thailand. The data collection was conducted at Perlis state area and Padang Besar during weekend. The number of the sample was calculated based on the population in Perlis state. The actual numbers of respondents approached for this study were 190 but responses from only 111 could be used. The result of this study the relationship between four factors that influences cross border shopping among tourist. This study can conclude the service quality, satisfaction and subjective norm are positive significant relationship with cross border shopping. And the result between attitude and intention cross border shopping is negative significant relationship.
Actions (login required)