Mohd Syahmi Daim, Abdullah (2014) Sabah disputes : Is there a legal solution for Sabah? Masters thesis, Universiti Utara Malaysia.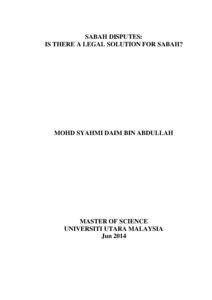 Preview
Text




s813792.pdf


Download (2MB) | Preview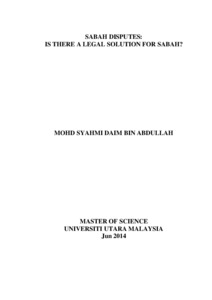 Preview
Text




s813792_abstract.pdf


Download (1MB) | Preview
Abstract
Sabah is part of the component states of Malaysia since its merger with the Federation of Malaysia on September 16, 1963; however the rule of independent choices by the people of Sabah were ignored and its sovereignty is still disputed by the Philippines. There is also an issue of cession money paid by the Malaysian government until today despite the fact that the Deed of 1878 has long been enacted during the British colonial era. Situation worsened as a result of incursion of the Sultanate of Sulu in Lahad Datu in March 2013, which may be seen as a form of use of force to claim over Sabah leading to bloodshed and severe adverse impact. A
legal solution on the future determination of Sabah was rarely discussed although it is very much relevant in order to achieve settlement on disputes that have long occurred between the Philippines and Malaysia. This paper will access the validity of 'self-determination' by the peoples of Sabah and analyze the issue of 'cession money' from the legal point of view through the principles of International Law and other related legal provision. Solution through the International Court of Justice (ICJ) is deems necessary in order to obtain a final decision which will bind both parties and indirectly bring new hope to the future of Sabah.
| | |
| --- | --- |
| Item Type: | Thesis (Masters) |
| Supervisor : | Wahid, Ratnaria |
| Item ID: | 4198 |
| Uncontrolled Keywords: | Sabah Disputes, Sabah Conflict, Sabah Issue, Territorial Disputes Settlement, Legal Solution, International Law, Self-Determination, Common Law, Rule Against Perpetuities |
| Subjects: | K Law > KZ Law of Nations |
| Divisions: | College of Law, Government and International Studies (COLGIS) |
| Date Deposited: | 03 Nov 2014 00:46 |
| Last Modified: | 03 Aug 2022 01:52 |
| Department: | College of Law, Goverment and International Studies (COLGIS) |
| Name: | Wahid, Ratnaria |
| URI: | https://etd.uum.edu.my/id/eprint/4198 |
Actions (login required)