Muhamad Daim, Ibrahim (2014) View on laws related to statutory rape : A comparative analysis in the study of statutory rape laws in Malaysia and Republic of India. Masters thesis, Universiti Utara Malaysia.
Text




s813793.pdf


Restricted to Registered users only
Download (838kB)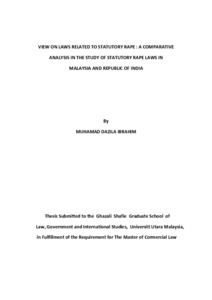 Preview
Text




s813793_abstract.pdf


Download (869kB) | Preview
Abstract
It is a criminal liability for a man who had sexual intercourse with the underage girl. Penal Code is the only single law for the criminal offense. Provisions under section 375 (g) of the Penal Code in Malaysia has codified that a man is guilty of the crime of rape through sexual intercourse with a woman under the age of 16. It is immaterial if the sex is done either by consent or without the consent of the woman. The law puts a statutory rape as a strict liability crime. The act of rape itself is able to indicate the intention of the accused. In legal, sexual
intercourse by a man with a female under the age of 16 termed as statutory rape. This study was done to see the extent of the existing law used to overcome the crime of statutory rape in Malaysia. In addition, comparisons were made with the Indian to assess the legal interpretation
of statutory rape in their country. A comparative analysis of the two countries is at once will show the application of English common law and the extent of which the two countries still rely on common law principles. The study was based on doctrinal research. This includes the use of the statute, the case laws and journal articles. A comparative analysis of the statutory rape laws in Malaysia and India will create an improvement over the existing law. It will also cause the effectiveness on the methods used. This study aims to improve the efficiency of statutory rape laws.
Actions (login required)