Salleh, Marwah Saadi (2014) The Seller's obligation to deliver the goods under a contract of sale of goods. Masters thesis, Universiti Utara Malaysia.
Text




s813180.pdf


Restricted to Registered users only
Download (883kB)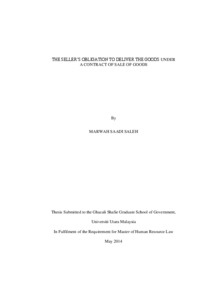 Preview
Text




s813180_abstract.pdf


Download (330kB) | Preview
Abstract
Sale contracts have a very important role in sale transactions, and their legal relations vary in different legal systems. The obligation to deliver is one of the most important obligations imposed by law on the seller, and the corresponding commitment by the buyer is to pay the price to the seller. Until sellers deliver the goods, buyers do not have authority pursuant to the owner. Many developed and developing countries are interested in the area of sale of goods contracts and accordingly, they have specified
special acts to regulate the contracts at internal and international levels. In Iraq, sale of good contracts have been regulated through the ratification of the CISG since
1991; yet, the country's relevant law is still under developed. The objective of this study is to study the importance of the delivery element in a sale of goods contract at international level; it also intends to examine the seller's liability following a breach in a contract of sale of goods. To carry out the study, a doctrinal legal approach was adopted as the research design. On this account, the researcher has mainly referred to secondary data, namely test books, journal articles, government reports and the provisions of the relevant laws and legislations of selected countries. All the collected data were analyzed descriptively and critically. This study found that the Iraqi legislation on sale of goods contracts should apply the common acceptable principles as agreed internationally. Some improvements to the law need to be implemented in order to make it more comprehensive and capable of avoiding disputes.
Actions (login required)