Choo, Beng Soo (2014) The introduction of the judicial management scheme. Masters thesis, Universiti Utara Malaysia.
Text




s811809.pdf


Restricted to Registered users only
Download (1MB)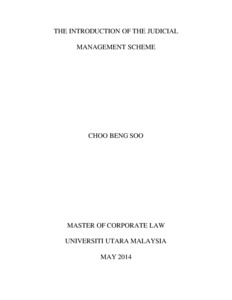 Preview
Text




s811809_abstract.pdf


Download (512kB) | Preview
Abstract
This project paper will focus on one key question, viz. is it time to amend the Companies Act 1965 in order to welcome the judicial management scheme, as an another alternative to liquidation, other than the existing scheme of arrangement under s 176 of the Companies Act 1965? In order to answer this question, the existing scheme of arrangement provided under s 176 of the Act has to be examined and studied carefully. The objectives of this project paper are to identify the benefits and shortfalls of s 176 of the Companies Act 1965, i.e. scheme of arrangement as well as to examine the judicial management scheme that proposed by the Corporate Law Reform Committee and the Companies Bill 2013. It also involves comparative study with other jurisdiction namely with the Republic of Singapore and to suggest any necessary improvements or amendments on the current law. The study found that the despite the obvious lacking of s 176 of the Companies Act 1965, i.e. scheme of arrangement, the introduction of the Companies Bill 2013 did nothing much in improving it. Thus, it is important to introduce the judicial management scheme in Malaysia, as prima facie, it able to cure the issue of classification of creditors that long existed in the scheme of arrangement. Upon reviewing the judicial management provisions in the Republic of Singapore, it seems that our Companies Bill 2013 had adopted most of it, but there are still room for improvement, for example, during the moratorium period, the court is given the power to dismiss the petition and considers that the judicial management order was presented frivolously, it may make such orders as it thinks just and equitable to redress any injustice that may have been caused, as provided under s 227B(9) of the Singaporean Companies Act. And this should be adopted by the Companies Bill 2013 as it able to avoid any injustice being caused.
Actions (login required)