Cheung, Heng Run (2014) Perubahan dari politik etnik kepada politik pelbagai budaya : Impak pilihan raya umum 2013. Masters thesis, Universiti Utara Malaysia.
Text




s812443.pdf


Restricted to Registered users only
Download (1MB)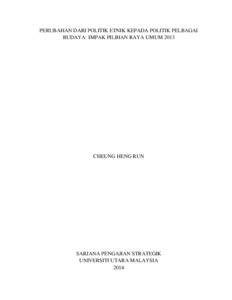 Preview
Text




s812443_abstract.pdf


Download (1MB) | Preview
Abstract
This study aims to investigate the impact of 2013 general election whether the politics of Malaysia has changed from ethnic politics to multicultural politics. In election 2013,
there are two pacts of parties contested which were Barisan Nasional coalition (National Front) and Pakatan Rakyat coalition (People's Pact). There are many researchers think that Pakatan Rakyat is able to contribute towards multicultural politics in Malaysia and ends the ethnic politics. Most researchers have regarded the emergence of Pakatan Rakyat can bring Malaysia towards a mature, fair, just, and egalitarian democracy. Nevertheless, most researchers have used historical events as their methodology. Content analysis will be used to collect information from primary data and secondary data. Primary data is through email interview, while secondary data is through online newspaper and online bulletins. From general election 2013, most data have showed ethnic sentiment was the main factor which contribute to the victory of a party. Hence, ethnic elements are the main element in election yet they do not really proof that the politics in Malaysia is an ethnic politics. Both coalitions have features like multi-ethnic or cultural diversity in government shaped by them. Multicultural-based politic is a politic that has been long practiced by Malaysia since Tunku Abdul Rahman's ruling era because of the importance of every group is kept and until today this spirit still breed and suitable with the cultural diversity (multiculturalism) concept. Tionghua ethnic representative is also needed in the cabinet formation had showed Malaysian politics is a multiculturalbased politic although many Tionghua candidates from MCA and Gerakan lost in the 2013 general election. Apart from that, Pakatan Rakyat's capability to drive Malaysia towards a multicultural-based politics direction has been proven through competency, accountability and transparent (C.A.T) policy achievement in Penang and Pakatan Rakyat has also showed multicultural political qualities in the state government shaped by them.
Actions (login required)