Umazah, Omar (2009) The effectiveness of teaching vocabulary items through contextualization for form 1 students at Sekolah Menengah Kebangsaan Sungai Tiang Pendang district. Masters thesis, Universiti Utara Malaysia.
Text




s88415.pdf


Restricted to Registered users only
Download (3MB) | Request a copy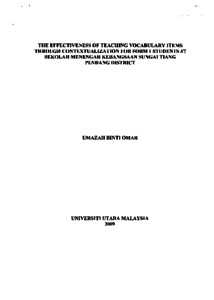 Preview
Text




s88415_abstract.pdf


Download (3MB) | Preview
Abstract
The study was conducted to investigate the effectiveness of
teaching vocabulary items through contextualization for Form One students at SMK Sungai Tiang Pendang District. Systematic vocabulary instruction is one of the most important and powerful tools we have for raising achievement and learning. So, this study focused on how the
students acquired vocabulary through contextualization. Participants of the study were the Form 1 students from one of the FELDA schools in Northern Zone in Kedah. The study was conducted within two to three months. The subjects were assigned to two almost homogeneous groups, based on their scores on a general test which had been standardized and
validated before. All the students came from the same linguistic background and the teacher and teaching materials were the same for the two groups. The experimental group received different treatments. In
experimental class vocabulary items were used in contexts and model sentences. In the control group, the new words were presented through definitions and synonyms using the traditional methods. The treatment of the study took 10 sessions using 10 lessons. Before starting the treatment,
two similar tests were prepared as the pretest and posttest. Each of them consisted of 45 multiple-choice items of vocabulary. At the first session, the pretest was administered to determine if there was any significant
differences between the two groups. By utilizing one-way ANOVA technique, it was revealed that the two groups were almost homogeneous. At the end of the term, the post test was administered. Then, the statistical techniques of one-way ANOVA and t-test were utilized to analyze the
collected data. Analysis of the results in the posttest revealed significant differences between control and context group. The results showed that the context enhanced vocabulary development of the learners Then, the student' essays were assessed by the experienced inter-raters. The
statistical data had been analysed using the Statistical Package for Social Science (SPSS) 12.0 version. The result of the study will be the yard stick for assessing the effectiveness of the strategy in teaching vocabulary
successfully and it was proven that teaching vocabulary through contextualization was an effective strategy in helping the students to learn vocabulary in the classroom contexts.
Actions (login required)