Azizah, Ismail (2011) The perspectives of the English teachers toward multicultural education practices in ELT. Masters thesis, Universiti Utara Malaysia.
Text




s800436.pdf


Restricted to Registered users only
Download (2MB)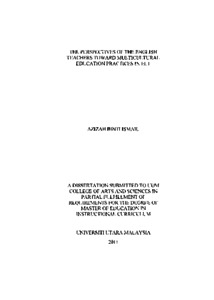 Preview
Text




s800436_abstract.pdf


Download (2MB) | Preview
Abstract
In Malaysia, federal and state mandate that public schools, private schools and even higher institution accommodate the unique needs of the linguistically and culturally diverse students. Students require the academic and affective support from their teachers when they are included in the diversity of students' classroom. Teachers' perspective toward multicultural education have been shown to be predictor of students' success. Teachers with positive perspective will accept their students and also able to modify their instructional strategies when teaching a diverse student population. The fundamental importance of teachers perspectives in predicting student success motivated the researcher to explore and to provide a better understanding of the teachers' perspectives and their
practices in multicultural education which may influence the students' performance. As the teachers' perspective toward multicultural education is seen as the core of
improving the quality of teaching and learning in diversified classrooms, this study utilized a qualitative research design to explore the perspectives of the
English teachers, their practices, the needs and effective methods that can bring the impact to the students. The researcher employed the interviews to collect data and perceive the merits and demerits of multicultural education. The findings emerging from the data were analyzed to establish and arrived at a conclusion about the teachers' perspectives toward the multicultural education and recognized the needs and effective methods of teaching as different students bring different background to the same educational experiences. This study also added to the literature support regarding to multicultural learning and hopefully able to provide the foundation for the future studies in the realm of multicultural education.
Actions (login required)