Norshakinah, Md Nasir (2007) Performance Evaluation Of IPSec Implementation In IPV4 And IPV6 Networks. Masters thesis, Universiti Utara Malaysia.
PDF




Norshakinah_Md_Nasir.pdf


Restricted to Registered users only
Download (13MB) | Request a copy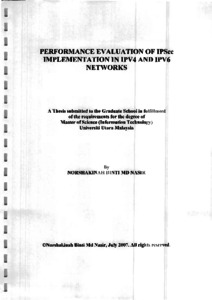 Preview
PDF




Norshakinah_Md_Nasir.pdf


Download (1MB) | Preview
Abstract
The fast proliferation and advancement of the Internet technology nowadays have led to an alarming increase of security issues of the whole network operation. The insecure nature of Internet today that based on Internet Protocol version 4 (IPv4) has a number of security problems. This scenario has driven for the development of many security protocols and one of them is Internet Protocol Security (IPSec). As a replacement for IPv4, Internet Protocol version 6 (IPv6) has a new security feature beside of its other new features. IPv6 implemented with security architecture which is called IPSec. The
implementation of IPSec in IPv6 is mandated. Meanwhile for IPv4, IPSec is optional. This research aims to implement IPSec, to test, and then to perform the network performance evaluation in order to analyze and assess the impact of the IPSec implementation over IPv6 network as compared to IPv4 network. The tests have been done using network performance tools, namely Netperf and ICMP programs. In order to accomplish the performance evaluation, an IPv6 testbed which is called 6iNet has been
developed at Universiti Utara Malaysia (UUM). This testbed has been developed as a platform to perform the related tests and tasks. The methodology used in this research is
adopted from the IPv6 project of National Institute of Standard and Technology (NIST). This methodology has been modified to suite on LAN academic network and related
tasks. The deployment of IPv6 testbed can be utilized to spearhead the implementation of operational IPv6 network in UUM in the future. From this study, we hope that the results of the experiments will give us the opportunity to understand the IPv6 architecture before any real implementation can take place. In addition, we hope that 6iNet will become a platform for various works over IPv6 in UUM.
Actions (login required)