Al - Matari, Ebrahim Mohammed Ayedh (2014) Corporate governance and performance of non-financial public listed firms in Oman. PhD. thesis, Universiti Utara Malaysia.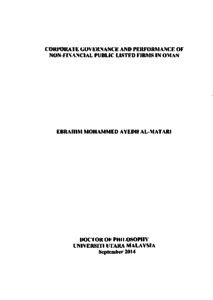 Preview
Text




s93664.pdf


Download (12MB) | Preview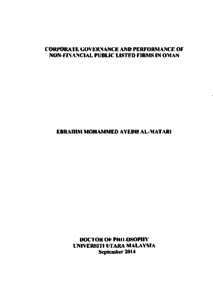 Preview
Text




s93664_abstract.pdf


Download (12MB) | Preview
Abstract
Corporate governance issues have been having the share of attention from researchers for over three decades owing to the increasing of global economic crisis. Hence, this study
attempts to contribute to literature by investigating such relationship in Oman, a developing country. Specifically, this study investigates the relationship between the
corporate governance mechanisms (board of director's characteristics, the audit committee characteristics, and the executive committee) and the performance of listed
companies in Oman for the year 2008 to 2012. The model of this study was theoretically founded on both the agency and the resource dependence theories. To examine the developed model, the required data were gathered from the annual reports of 78 nonfinancial listed firms. In analysing the data, this study utilised the panel data methodology
on 78 companies with 390 observations. Moreover, this study used firm size, leverage, industry and years as control variables. Based on the panel data results, the random effect model was used to examine the effect of the predictors on the finn performance measured by Return on Assets (ROA) and Tobin's Q. The statistical results show that board size, board meeting and time period (2010) were a positive determinant of Tobin's Q while audit committee meeting and executive committee existence were negative determinants of Tobin's Q. On the other hand, the secretary role, leverage and time period (2011) were negative predictors of ROA. From the practical and the theoretical contribution points of view, this study indicate that the resource dependence theory is more significant compared to the agency theory when describing corporate governance practices in Oman. Besides providing suggestions for future research work, this study provides several recommendations for regulators (the Capital Market) and Omani companies.
Actions (login required)