Muhammad Syahir, Abdul Wahab (2014) The influence of work environment inhibitors on the various engagements in informal workplace learning activities amongst Malaysian accountants. PhD. thesis, Universiti Utara Malaysia.
Text




s92789.pdf


Restricted to Registered users only
Download (4MB)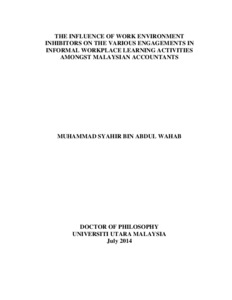 Preview
Text




s92789_abstract.pdf


Download (1MB) | Preview
Abstract
Informal learning activities are important for accountants in public accounting firms to develop and maintain knowledge and skills within the professional environment. However, recent evidence indicates that their frequency of engagement in the learning activities is less encouraging. Although this problem is associated with work environment inhibitors, the influence of these factors on various informal learning activities has yet to be explained by any empirical research. Therefore, the main objective of this study was to examine the extent to which the inhibitors influence the
accountants' frequency of engagement in various informal learning activities. A total of 258 chartered accountants in the firms across Malaysia participated in this study. The data of the study was collected through self-administered survey questionnaires and analysed using the descriptive approach and multiple regression analysis. The findings showed that the meeting was the most frequently engaged informal learning activity. The results indicated that lack of time due to heavy workload, lack of support from others, structural inhibitor, lack of meaningful rewards, lack of fund, limited influence on firm"s operation and lack of tolerance to mistakes negatively and significantly influenced the frequency of engagement in various (at least three out of five activities) informal learning activities. The findings also showed that lack of support from others was the most influential inhibitor to reading job related materials. The most influential inhibitor to audio/video tapes usage and group
discussion was lack of time due to heavy workload. Lack of meaningful rewards and
limited influence on firms operation were the most influential inhibitors to meeting
and briefing session respectively. Based on the findings, theoretical and practical implications of the study as well as suggestions for future research are also
discussed.
Actions (login required)