Arsaythamby, a/l Veloo (1999) Public Debt Management : The Malaysian Experience. Masters thesis, Universiti Utara Malaysia.
PDF




ARSAYTHAMBY_AL_VELOO_-_Public_debt_management_-_The_Malaysian_Experience.pdf

- Submitted Version
Restricted to Registered users only
Download (6MB) | Request a copy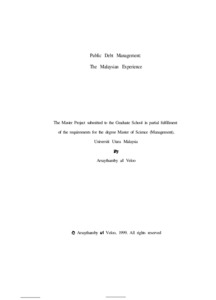 Preview
PDF




1.ARSAYTHAMBY_AL_VELOO_-_Public_debt_management_-_The_Malaysian_Experience.pdf


Download (916kB) | Preview
Abstract
This study is a modest attempt at understanding and examining debt problem of the emerging economy such as Malaysia. The study is databased and empirical in
approach. The study provides an analytical review of the trend and other related issues such as burden of public debt and inflationary-potential of the Federal government's
borrowings under fiscal management over the years.
The study reveals that during the period 1971-1998 the compound annual rate of growth (GARG) of domestic debt of the country was 11.9 per cent, whereas that of external debt was 11.1 per cent. Domestic debt has, thus, exceeded the external debt. Though the burden of public debt is decreasing, the debt-GDP, debt-export and such other measures suggest sustainability of public borrowings. In the ASEAN setting Malaysia has shown a better record in comparison to Indonesia, Philippines and Thailand.
Public debt is less pro-inflationary in Malaysia.
Actions (login required)