Jawad, Zaid M. (2014) Modeling technological change on telecenter effectiveness. Masters thesis, Universiti Utara Malaysia.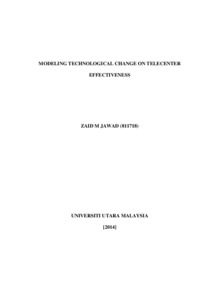 Preview
Text




s811718.pdf


Download (649kB) | Preview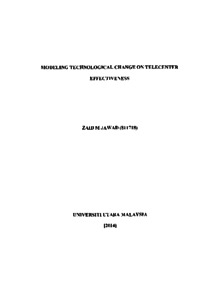 Preview
Text




s811718_abstract.pdf


Download (661kB) | Preview
Abstract
Technological change (TC) is the overall process of continuous invention, innovation and diffusion of technology that aims at improving the quality of technical performance. Without TC, there would be no business growth and development particularly in a telecenter. A telecenter is public environments that people develop essential digital skills to access information and communications technologies to create, learn and achieve their specific needs. The major goal of a telecenter is to bridge the digital gap between the urban and the rural areas, and provide digital support services to the neighbouring community. Telecenter effective usage is a major issue of telecenter sustainability because it has been found that there a lack of usage. Hence, this study focused on identifying TC factors that contribute significantly to telecenter effectiveness. The first objective of the study was to identify the contributing factors of TC. The second objective was to construct a computational model based on selected factors obtained from objective 1. The third objective was to evaluate the effectiveness of the model. The research was conducted using the computational model approach through three phases: abstraction, formlization, and evaluation. The results showed that the computational model was able to show the effect of the selected TC on telecenter effectiveness in different types of scenarios. The usage of telecenter can be more effective by considering the TC factors that are appropriate.
Actions (login required)