Chasib, Hassanien Ali (2014) Exploring the effects of cyber-bullying on student's attitude in online learning: A case study of UUM. Masters thesis, Universiti Utara Malaysia.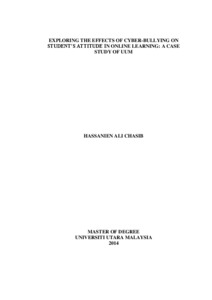 Preview
Text




s811398.pdf


Download (2MB) | Preview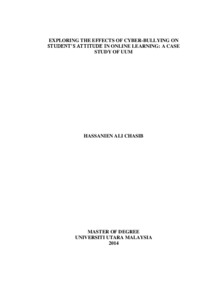 Preview
Text




s811398_abstract.pdf


Download (874kB) | Preview
Abstract
Nowadays, the massive use of information technology services in different learning fields has led to more cyber-bullying in return. There are few studies conducted to measure or examine the effects of cyber-bullying activities on individual's behavioral aspects within the university context. Therefore, this study aimed at determining the types of cyber-bullying exist in online learning
environment in UUM and its effect on student's attitude to use online tools. Questionnaire was administrated among 280 respondents, only 207 questions were found to be valid for data analysis. An exploratory factor analysis was used to determine the key factors contributing to UUM students' cyber-bullying. A total of three factors were resulted 1) Receiving emails and instant messages with different identities, 2) Asking for access without permission, and 3) Use of webcam images. The result also showed that there were a significant correlation between these factors and students' attitude. The regression analysis result showed that students' attitude were affected by two factors which believed to favor their intention to use learningzone as an online learning tool.
Recommendation and future studies are discussed in this research.
Actions (login required)