Yusri, Munaf (2012) Perspektif pemilih suku Melayu dalam pemilihan umum di provinsi Riau tahun 2004. PhD. thesis, Universiti Utara Malaysia.
Text




s90520.pdf


Restricted to Registered users only
Download (1MB)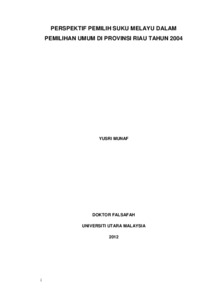 Preview
Text




s90520_abstract.pdf


Download (401kB) | Preview
Abstract
In daily practice, that often heard the statements or attitudes of the Malays in Pekanbaru city on the election, the statements that often heard such as "memilih atau tidak memilih awak kan macam iko ajo" or "siape aje yang nak jadi presiden/gubernur/bupati taka de juge pengaruhnye dengan kite". Such sentences are often heard in daily life when the election takes place, absolutely such of the attitudes can not be regarded as representing of the attitude of the Malays as a whole, but in general statements like that are often heard in coffee houses, especially raised by circles are included in the category of traditional voters. So if the Malay people who have entered the category of rational voters also have such perspective on the election process? Surely the answer is no, because the level of rational voters to use or not use their voting rights in elections already provided with the right reasons. The study in this thesis based on the description of the problems already mentioned above, then the main question of this study is, how the perspective of ethnic Malay voters in the general election in the city of Pekanbaru Riau Province in particular in 2004? And the factors that influence the attitude of Malay interest in determining his choice during the 2004 general election? The method in this thesis conducted by survey method, in which the data in this study are based on field data, the author obtained by distributing questionnaires from respondents who have been prepared with a list of questions in a closed form. Based on the results of the study in this thesis can be concluded that in implementing the political rights of ethnic Malay voters in the Pekanbaru city is not influenced by ethnic factors. It turned out that in determining political attitudes in the general election in 2004 in Pekanbaru Riau province in particular are affected by many factors.
Actions (login required)