Utomo, Tri Aprilijanto (2013) Masalah kurikulum dan pengajaran yang dihadapi pelajar program pengalaman lapangan pendidikan jasmani: Satu kajian kes. PhD. thesis, Universiti Utara Malaysia.
Text




s90810.pdf


Restricted to Registered users only
Download (2MB) | Request a copy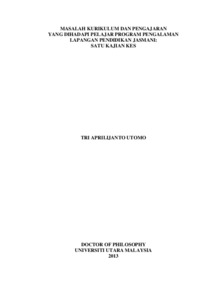 Preview
Text




s90810_abstract.pdf


Download (743kB) | Preview
Abstract
The quality of teaching amongst students undertaking the physical education program was found declining during their teaching practise sessions. Hence, this research was conducted to identify the curriculum and instruction problems; and the contributing factors in the decline of the quality in the teaching of students in the Sports and Health Department, Faculty of Teacher Training and Education, Sebelas Maret University, Surakarta, Indonesia. This research employed a qualitative case study method involving informants consisting of 34 students, 21 mentors, 15 teaching supervisors, and two curriculum experts. Data were collected through interviews, observation and document
analysis. The result showed that placement of the student trainees at the training school
was well managed by the university administration. However, from the aspect of
teaching physical education as a discipline; it was found that the content and the implementation of the courses undergone by the students were not consistent with the design of the physical education teacher trainee programme. There are various problems concerning the implementation of the curriculum and instruction, which include the planning of teaching; course sequencing and microteaching; declining quality of students' personality; facilities and infrastructure used in the teaching practice; and communication skills. This research contributes to theories in the field of physical education in higher education. Specifically, it is related to the involvement of students in their training for teaching practice. Besides, this research can be used as the university guideline to streamline the curriculum and instruction with those required by the Teacher Training Schools and the Ministry of Higher Education. The university management should also be firm in enforcing discipline amongst the students to help build their good personality, which in turn, will contribute to the improvement of the
quality of teaching in the physical education field.
Actions (login required)