Rosnelim, Yusoff (2013) A study on the Price Control and Anti Profiteering Act 2011 in controlling the price of goods. Masters thesis, Universiti Utara Malaysia.
Text




s802293.pdf


Restricted to Registered users only
Download (1MB) | Request a copy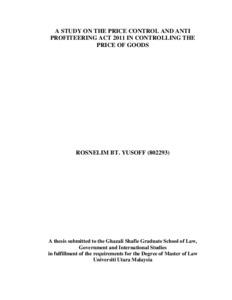 Preview
Text




s802293_abstract.pdf


Download (520kB) | Preview
Abstract
Attempts to control and fix prices for goods and services by using the law had commenced since the ancient time four thousand years ago but more often than not the attempts failed to achieve their objective. Price control legislations have also been used by governments in restraining inflation and overcoming shortages of goods. However instead of curbing inflation, price controls add other complications to the inflation problem such as black markets and more shortages of the goods controlled that reflect the waste and misallocation of resources caused by the price controls themselves. This study therefore explains why our government uses the price control law to control prices of goods even though history has shown that price controls add to the problem of shortages rather than eliminate it. In addition to that this study also explains why the government abolished the Price Control Act 1946 and introduced the Price Control and Anti Profiteering Act 2011. This research is essentially a library based doctrinal research whereby the materials used are obtained from libraries, archives and other databases. These materials are used to describe events when price control laws were used to control prices of goods and their ensuing consequences. The research finds that one of the aims of price control is to prevent traders and businesses from unscrupulously charging exorbitant prices for their goods and services and thus price control can be seen to act as a safeguard for consumers against opportunistic profiteers. This research concludes that price control measures are necessary but should not be in perpetuity.
Actions (login required)