Ahmad Fazrul Shahril, Tajuddeen (2008) Expert System For PC Maintenance and Troubleshooting. Masters thesis, Universiti Utara Malaysia.
PDF




Ahmad_Fazrul_Shahril_Tajuddeen.pdf


Restricted to Registered users only
Download (5MB) | Request a copy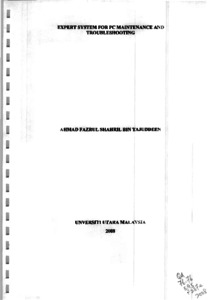 Preview
PDF




Ahmad_Fazrul_Shahril_Tajuddeen.pdf


Download (933kB) | Preview
Abstract
Over the last decade expert systems have been applied in many different domains with varying degrees of success. Much has been learned about techniques for knowledge
representation, inference engines and user interfaces. Another important factor in the success of an expert system is to take into consideration at the design stage the person for whom the final system is intended. Innovation and invention of cost effective and mobile computing changed community life style. The community and surrounding had moved together to have a better life and sophisticated. Inventing an application for a remote and expert system for PC maintenance and troubleshooting that can assist the users. This application has to be able to
provide useful general solution to the predicament and issue when determining the feasibility of an expert system.
Actions (login required)